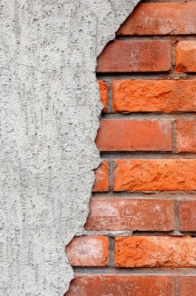 With so many options to make your house as beautiful on the outside as it is on the inside, it's hard to know where to start when choosing an exterior finish for your home. Before you can decide which exterior finish is the right one for your home or business, it helps to know more about what various finishes can do besides make your home look better. Let us be your guide.
Parging
Parging uses a masonry-based mortar to protect vulnerable parts of a building from the elements, like where the foundation meets the ground. It's a really versatile finish that can cover cracks or water damage and seal small air leaks to improve your home's energy efficiency. While parging is traditionally applied at the base of the house to protect the foundation, it can be applied to vertical stone, brick, or concrete surface.
Acrylic Stucco
Traditional stucco has been around for centuries. It's beautiful to behold, but it's also on the finicky side. For an effective seal, it can only be applied when the weather conditions are perfect and it requires time to cure between coats. Newer acrylic stucco finishes still require skilled application, but they're a little less vulnerable to the elements. A brand new acrylic stucco finish can last for decades.
EIFS (Exterior Insulation Finishing System)
There is no denying the charm of old houses. There is also no denying the fact that some days it can feel colder inside than outside in drafty old house. A new exterior Insulation Finishing System (EIFS) can help keep the warm air inside and the cold air outside, and it looks fantastic as it does its job. Any negative reports you have heard about stucco, and especially about EIFS, are usually due to improper installation. If you choose this exterior finish, make sure your contractor knows what they're doing by asking all the right questions.
Stone Veneer
If you know you want to change the look of your home but you don't want it to stand out too much from the older homes on your street, stone veneer might be right for you. Available in natural and manufactured stone, stone veneer can be dry-stacked or mortared depending on what's right for your home. Did you know there are parts of the Coliseum in Rome where you can see the original stone veneer? If it can last through the ages like that, you can be sure it is durable enough to withstand Alberta's climate. It will look as good 50 years from now as it did the day it was installed.
Exterior finishes do more than make your home look good. The right finish will be as functional as it is attractive. We have been providing expert parging and stucco services in Edmonton, Alberta since 2007. Feel free to call us for a consult any time to help choose the right exterior finish for your home. For general information and home maintenance tips follow us on Twitter and like us on Facebook.
Image courtesy of Suat Eman / FreeDigitalPhotos.net