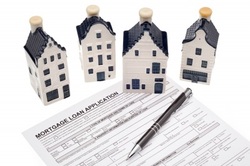 When you're shopping for a new Edmonton home, the inside of the house gets all the attention. You ask how many bedrooms and bathrooms it has and when the kitchen was last remodelled. You might also ask when the last time the roof was replaced, and that's a good place to start. Our point here is that what's happening outside is as important if not more so than the interior finishes. To help keep you from buying a whole heap of trouble, here are our thoughts on what you should look for to see if the home is well maintained on the inside AND the outside.
Why it's what's OUTSIDE that counts
Too often we walk into a house, see a newly remodelled interior and fall in love with the oak floors and the granite counter tops. That's what house-flippers are counting on! Though interior finishes can be expensive, they're nowhere near as hard to address as the stuff on the outside. Yes, finishing touches like landscaping are nice, but those too are often used to hide or at least detract attention from what's really going on outside. Most home owners take a sense of pride in their house, which means they have taken care of the exterior of the house as well as they have cared for the interior.
Look up, Look down
Once you get serious about purchasing a home, you may want to enlist the services of a home inspector to check the major systems of the home. But that's not a practical plan when you're just starting your search and need to narrow down the possible selections. Though our blog posts on spring maintenance tips (Part One, Part Two) are meant for a home you already own, you can also borrow some of the information for a preliminary look at a prospective new home. For example, have a look at the roof from the ground with a pair of binoculars to check for signs of wear and tear. Look around any masonry for signs of leaks like efflorescence. Check out the parging. Is it chipped or cracked? Maybe it's nothing, but maybe it's not. While you're upstairs checking out the new soaker tub, have a look out the window to see if it looks like any debris has been cleared from the eaves troughs.
Maintaining the house shows TLC
This isn't meant to be an exhaustive inspection, just a check for signs that it has been well maintained. It's a lot harder to hide signs of neglect of the exterior of the house with a fresh coat of paint. Of course you shouldn't base your final decision on a cursory glance around the house, but you may be able to move on to greener pastures pretty quickly once you know how to look beyond the window dressing. Would you like more tips on maintaining the house of your dreams once you have bought it? Be sure to follow us on Twitter and like us on Facebook.
Image courtesy of phasinphoto / FreeDigitalPhotos.net