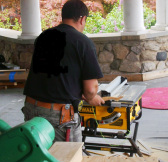 "They" always say be sure to evaluate any contractor you hire thoroughly to make sure they're up to the job you have in mind. As we discussed in the first post in the series, it's important to ask the right questions to make sure you're hiring the most qualified company or person to do the job. Here is the second half of our list:
6. Who handles the application for any necessary permits?
Municipal building codes are tricky beasts. You should reasonably expect any contractor you are considering to know the ins and outs of applying for the necessary permits from your city or township. Failure to obtain the proper permits can leave you with a huge legal mess to clean up long after your job is over. If you get a vague response to ANY question you ask about securing permits, keep looking.
7. Who are your primary suppliers?
You can tell a lot about a company by the way they treat the other people they do business with, so if their suppliers have a long list of grievances about unpaid bills, you know you're not dealing with the cream of the crop. Look for a company that treats everyone professionally.
8. What is the estimated job start and end date?
Even a small job around your house is somewhat of an inconvenience for you. You have to be home at least at the start of the job to make sure the work crew arrives and has everything they need. It's not unreasonable to ask when the job will fit into the schedule and how long they think it will take. If it's a quick, one-day exterior job they may be a little vague with an answer like "in the next four to six weeks" and that's OK, but if it's a major project that will have people in and out of your house you want a straight answer.
9. What guarantees or warranties do you offer on your work or materials?
Reputable contractors stand by their work. For example, on our parging and stucco jobs, our work is backed by a five-year warranty on materials and labour.
10. What are your payment terms?
Some companies require payment up front, others ask for a deposit for materials with the rest due upon completion, and all of this will vary based on the size of the project. You'll want to ask in the interview stage to avoid an awkward conversation on the first day of the job.
There you have it, the top 10 questions you should ask any contractor before signing on the dotted line. Don't forget to go back and read part one of the series. Follow us on Twitter and Like us on Facebook for local construction news and before and after pictures of our parging jobs.