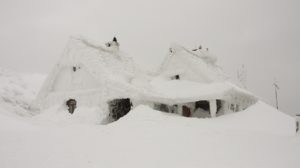 There are a host or problems that can occur around the house in winter, but because of inclement weather conditions in Edmonton and the surrounding area, avoiding these conditions means doing preventative maintenance in the fall. Many repairs might even need to wait for spring to be properly addressed, and that's a long way away!
Here is a look at four common problems around the house that typically present themselves in winter. Knowing what you're up against could be helpful when prioritizing your pre-winter home maintenance checklist next year.
Leaky Roofs
When the roof is in need of TLC, like the replacement of loose or missing shingles, even a normal snowfall can cause serious problems. While you may think icicles look pretty, ice damming is another common winter house problem that can lead to leaks. Most of the time, ice dams form because of poor ventilation in the attic, but clogged gutters can be a contributing factor to their appearance. Avoid roof-related winter hazards by arranging a roof inspection and cleaning the gutters each fall.
Struggling Heating Systems
Some days are so cold; the house will feel chilly no matter what you do. Before you increase your home heating costs by bumping the thermostat a degree or two, understand that it may be because of a problem with your home heating system. Common culprits include malfunctioning pilot and ignition lights, and dirty air filters causing inconsistent heat from room to room.
Leaky Basements
The foundation of your home serves many purposes, not the least of which is keeping the basement dry all year round. But snow and slush pile up against the house all winter, and that can cause leaks during a warm spell. Avoid this condition by having a fresh coat of parging applied next spring to add another layer of defence against the harsh outdoor elements.
Damage to Property from Tree Limbs
Everybody loves a tree-lined street, but those trees can cause a lot of headaches! There's pollen in the spring and leaves in the fall, but perhaps the biggest hazard is the potential for damage from limbs that have been weighted with heavy snow and ice in the winter. If you've got a tree that is getting a little too close for comfort, you may want to take care of some of the overhang before the City of Edmonton changes regulations around tree removal on private property.
Some winter conditions around the house are unavoidable, but by keeping up with regular home maintenance on a recommended schedule, you can avoid being left out in the cold in the winter months. To help you know what to do, and when to do it, we share parging and home improvement tips to help you enjoy your home, at every time of year. Make sure you never miss an update by joining us on Facebook and Twitter.