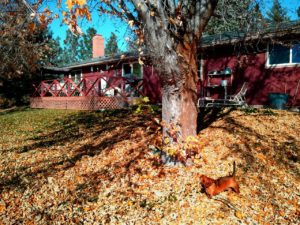 Labour Day has come and gone, leaving us looking ahead to another long, cold winter in Edmonton. Soon enough, work outside will become something to dread, so before the cold weather hits, take the time to do some work around the house to free up precious time for warmer weather activities next year.
Here are our picks for tasks you should do — or have done — before the cold weather hits for another year.
Furnace Maintenance
We can promise you that if your furnace is going to break down this winter, it's going to happen on the coldest day of the year. There is also a good chance it will be mere hours before 15 people arrive at your house for Christmas dinner. You can avoid this predicament by scheduling a service call for your furnace right now.
Clean the Gutters
Cleaning the gutters in the fall will help stave off the dreaded ice damming that can damage your roof and lead to leaks, another condition that's prone to happening at the worst possible time. If you are surrounded by trees, it's OK to leave this one until most of the leaves have come off the trees, but don't wait until the snow has already started to fall.
Change Batteries in the Smoke Detector
The clocks won't fall back for a few more weeks, but there's no time like the present to add correctly-sized batteries for every smoke detector to the shopping list. Those with hard-wired systems still need to ensure functioning batteries because a fire that started in the electrical system will likely take out the power, leaving you reliant on the battery backup to stay safe.
Turn Off Exterior Water Sources
The long season of watering the lawn and filling the plastic pool is just about over, so it's time to make sure you shut off the water to the taps outside. Leave them open for a good long time to let them drain so that ALL of the water is out. This will help to prevent frozen and burst pipes this winter.
Last, But Not Least…
Contact the Edmonton Parging Experts to schedule an appointment while you still can! Cracks in the parging can leave your home's foundation vulnerable to the harsh exterior elements this winter. Parging repairs require a few consecutive days of relatively warm, dry weather to properly cure, and we only have a few appointments left this season!
Need a break from all of these projects around the house? Visit us on Facebook or follow us on Twitter. We share the latest home improvement news and Edmonton events all year round. If there are any handy fall maintenance tips we missed, please feel free to share them in the comments!