Congratulations! You survived the holiday season! Now that the Christmas tree has done its duty and the lights and decorations are going back into storage, it's time to face the grim reality of a long winter ahead.
Will you spend it frantically searching online travel sites for last minute deals, staring at the walls and begging for spring? Or will you use the downtime to do something productive around your house, thereby freeing up the warmer days of spring and summer for more leisurely, outdoor pursuits? If you choose the latter option, here are some ideas to help you start chasing away the winter blahs.
Make a Splash in the Kitchen
A new backsplash in the kitchen is a relatively easy and inexpensive home improvement project you can do yourself over a weekend. If you don't have an existing backsplash, it's even easier. Find vertical tiles a little too finicky to manage on your own? That's OK; there are plenty of other options. For example, a mirrored backsplash adds light to the room and makes it appear larger, and yet it's the easiest thing in the world to keep clean with a little Windex. Better still, any home improvement store will have "peel and stick" mirrored tiles that you can add in any pattern that suits your fancy.
Shed New Light on an Old Room
New lighting fixtures can do wonders for a drab, old room. Some of the handier among us can install a new fixture by ourselves, but there's no shame in calling in a licenced electrician if you're not comfortable taking on this job yourself. If new fixtures are more than you're willing to do right now, consider swapping out your old incandescent or halogen lightbulbs with new LED lights. They're expensive in the initial outlay, but they last for years and can dramatically lower energy bills.
Change the Colour Scheme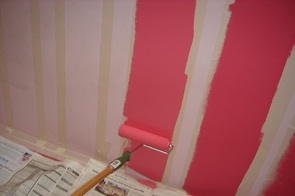 In the days of old, when paints were made with harsh chemicals that were as dangerous as they were foul-smelling, the idea of painting in the winter seemed positively futuristic. Thankfully, the future is now! Newer paint mixtures are environmentally friendly, allowing you to safely paint without opening every window in the house.
Paint is cheap, so feel free to play around with some of the newer texturing techniques or bright hues you wouldn't ordinarily consider. If paint is too messy for you, take heart. Wallpaper is making a big comeback in home decorating, and a simple pattern will make matching the seams a breeze.
Don't let the cold weather stop you from getting the most out of your home. It's the most personal space on earth, and it should be just as you like it!
Our specialty may be parging and stucco exterior finishes in Edmonton and the surrounding area, but we share all kinds of home improvement and maintenance tips in our online communities, all year round. Join the conversation on Twitter and Facebook.