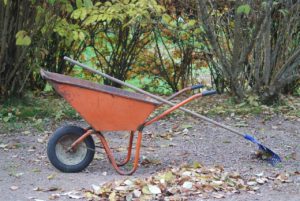 With so many people vying for the attention of buyers in the hot Edmonton housing market, it's important to make sure your property stands out in the crowd. Tricks like baking cookies the morning before a showing are cute, but the smell of baked goods won't keep buyers from taking a good look around for signs that your home is a good investment. By all means, bake some cookies, but be prepared to put in a little elbow grease to get your home off the market quickly. A few simple steps can make sure your home shows like a dream so you can get onto the business of moving into YOUR new dream house.
Ruthless Decluttering
The late, great comedian George Carlin had a pretty good description of your stuff versus, um, clutter to other people. Google "George Carlin Stuff" for his hilarious but entirely NSFW elaboration. What George was so eloquently saying is that your family photos and vacation souvenirs represent precious memories to you, but to someone else they're just a distraction. When prospective buyers come into your home they're trying to envision how it will look adorned with their precious memories and filled with their furniture. It's much easier for them to do that when your stuff is mostly out of the way.
Cleaner than a Whistle
Once you've decluttered your house, you may find there are areas that you haven't been so diligent about swiping with the vacuum cleaner over the years. When facing a major deep cleaning to get your house ready for multiple showings, sometimes it's hard to know where to start. The kind of cleansing that's required now could take the average homeowner days, and you may still be unsatisfied with the results. There is no time like the present to enlist the services of a professional cleaning service. In two or three hours a professional crew can come in and make every surface of your house look as good as new.
Don't Forget the Outside
While it's true that some people will focus on the interior when making a home purchase, the condition of the exterior is a good sign of the overall care and attention paid to the home over the years. If the paint is peeling, touch it up. If the grass has gotten a touch long, cut it. While you're at it, prune the hedges too. A seemingly minor detail like cracked parging can give prospective buyers the mistaken impression that there may be a problem with your foundation. Don't let that happen! Hire a professional Edmonton parging company to come out and assess the parging. This will allow house shoppers to focus on the big details and realize that your house is one that should make their short list.
Want to know what else you can do about keeping your home in tip-top shape? We share maintenance tips and our latest news on Twitter and Facebook.  Come check us out!