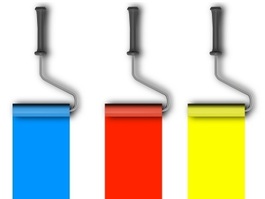 Your home is the most personal space on earth, and yet it is on display all of the time. When you are choosing a colour for the exterior of your house, you are free to select something that is an expression of your lifestyle. However, you should always keep the rest of the neighbourhood in mind. If every house on your street is in a natural or neutral tone, the bright colours more typically used on the coasts of Newfoundland may not be a welcome addition to your Edmonton neighbourhood. Then again, it's your house, so if you are OK with being the house on the street that everyone is talking about, go for it!
Once you have settled on the colour palette that you love, it's time to find an exterior finish that will work well with your chosen hues.
Stucco Exterior Finish
Stucco is not just another pretty face! One of the greatest qualities of a stucco finish is its versatility. This durable stuff can withstand the harsh climate of a cold winter, and it offers insulating properties to help ward off heat in the summer. Maybe best of all, stucco is available in just about any colour you can imagine. If you do decide to go with a stucco exterior finish, make sure you work with professionals. Any complaints you have read online about problems with stucco are more likely due to a poor application than to a flaw in the material itself.
Vinyl and Aluminium Siding
With nearly unlimited colour choices, siding can be a good choice for an exterior finish. It is durable, and can be textured to look like other finishes. Aluminium is more expensive than vinyl, but it tends to last longer and generally has fewer problems with the accumulation of moisture between the siding and the original exterior finish. It can also be painted if you fall in love with a different colour.
Paint
The most obvious and least expensive way to change the colour of your home is a new coat of paint. It's also the least durable, which may be a blessing or a curse, depending how often you feel like having your house painted. If you like to change things up every few years and don't mind getting your hands dirty, paint is a great option. If you're hoping for something a little longer lasting, stucco or siding might be a better bet.
The great thing about changing up the colour on the outside of your home is that it can give a fresh look. Freshening up the exterior is always recommended when you're planning to sell your home, but why not give it a new sheen just for yourself? If you decide to go with stucco and want to find a reliable company covering Edmonton and the surrounding area, we just might know where to find one…
Want more of the latest news and home maintenance tips from J and J Coatings? We're on Twitter and Facebook. Come join in the fun!
Image courtesy of Salvatore Vuono at FreeDigitalPhotos.net