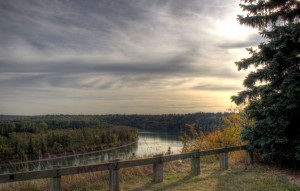 Maybe it's because we finally convinced people that it's cold here, but it's a dry cold. Maybe it's because so many people associate "prairies" with dry conditions. We don't know exactly why, but many people don't realize that Edmonton and the surrounding areas are actually quite prone to flooding. After all, the North Saskatchewan River runs right through us.
The City of Edmonton has a fairly detailed flood prevention program in place to help protect area residents from the effects of flood, but there are a few things you can do to help keep your house and the people in it safe from the devastating impact of flooding.
Clear Drains, Gutters, and Downspouts
If you didn't get around to clearing your eavestroughs as part of your fall maintenance routine this year, this job should find its way to the top of your to-do list really soon. Gutters help rainwater flow away from your house through the downspout. Speaking of the downspout, make sure the water in your freshly cleaned gutters has somewhere to go. Make sure the end of the downspout is clear of snow and leaves or other debris. Finally, if you notice that any of the storm drains around your house are clogged, if you can do so safely, give them a quick clearing. If you can't, call 311 to report the blockage to the city.
Prepare for the Worst
It's a good practice to get into anyway, but if there are reports of flooding in your immediate area, be sure to move any valuable items and important paperwork stored in your basement to a higher floor in the house. Sure, you might be able to repair or replace anything that is damaged later, but it's best to avoid the heartache and inconvenience entirely.
Check the Foundation
Is the crack in your foundation cosmetic, or a sign of real trouble? You don't want to find out it's a real problem when water is pouring into the basement. Hopefully, your house just needs a fresh coat of parging to improve the appearance, and that crack isn't an indication of something much more severe. If there are any areas of your foundation that look cracked, be sure to have it checked out before there is a lot of spring runoff around your house.
Wondering what else you can do to keep your home tip-top shape this spring? Be sure to check out our Top 10 Spring Maintenance Tips, Part One and Part Two, for a handy checklist of the things that should be on your radar this season.
Want to make sure you don't miss a thing from J and J Coatings? Be sure to join our online communities on Twhttp://bit.ly/1j9G9nHitter, Google+ and Facebook! We share home improvement and maintenance tips and tricks several times a week.