Our recent bout of snow in Edmonton aside, it looks like spring is finally springing in Alberta. Though this time of year usually brings the annual gardening season to mind, there are a few things you can do right now to protect your home from damage as the seasons change. After all, you'll have a lot more time to enjoy your newly planted garden if you're not busy cleaning up surprises around the house. Though we're in the business of parging and stucco, we've picked up a few tips about general home maintenance along the way.
To kick off the new season, here are is the first half of our Top 10 list of top-down spring maintenance tips for your home:
1. Check Out the Roof and Chimney
If you don't have a ladder tall enough, or you're afraid of heights, you can borrow a pair of binoculars from your local birdwatcher to have a look at your roof from the ground. You're looking for missing or damaged shingles that may need to be replaced. Inspect your chimney for wear and tear like cracked bricks or missing mortar. If you no longer have a fireplace, consider taking the chimney down. You can promise the kids Santa will find another way in, and save yourself the hassle of annual chimney inspections and maintenance.
2. Inspect Exterior Walls
No matter what exterior finish covers your home, the exterior walls should be inspected at least annually for signs of damage, especially around eaves and downspouts. Signs of damage that should be investigated include water damage and cracks in any parging and stucco finishes.
3. Gutter Cleaning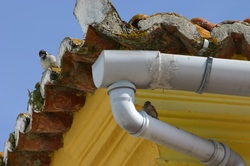 The primary function of your eaves troughs is directing rainwater into the downspout and away from your home. They can't do that when they're clogged with debris. Left unchecked, this debris will allow water to pool in the eaves and that can cause rust or even a leak in the roof. Keeping the eaves troughs clean is a relatively easy way to keep your house dry.
4. Window Gaps
The caulking and/or weather stripping you applied to keep drafts out last fall (you did that, right?) will also keep your nicely cooled air inside in the summer, so make sure it's still in good shape. While you're at it, a good cleaning of the windows won't hurt.
5. Pop the Attic Hatch
You may have sealed off the attic to prevent heated air from escaping up there. That's a good idea, however once in a while you may need to inspect the attic for signs of improper ventilation, like the telltale black blotches of mould. Warmer conditions will turn a small mould problem into a bigger one quickly, so the best time to address it is now.
There you have it, part one of our Top 10 Spring Maintenance Tips. Though many of these tips are suited for Edmonton, Alberta and the surrounding area, tips will help maintain your house no matter where you call home. Stay tuned for the rest of our tips, coming soon. In the meantime, be sure to Like us on Facebook or Follow us on Twitter for the latest news.
ps, don't miss Top 10 Spring Maintenance Tips, Part Two. It's live on the blog now!