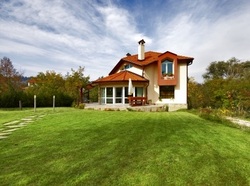 Usually we spend so much time INSIDE our homes, making sure it's a clean and comfortable space, that we forget all about what's going on outside. That's a shame, because the outside of our house is all most people will ever see. A well maintained exterior says a lot about the overall care and attention an owner has given to the house. Have you let things slip outside? Here are a few quick tips to help you fix it up quickly.
Exterior Finish
Whether it's brick, stucco, siding or wood, visible chips or flakes on your home's exterior aren't pretty. What's worse, they could be exposing you to the elements. If the mortar around your brick finish is loose, find a contractor that specializes in tuck pointing. If your stucco is in need of repair, contact parging and stucco experts. If your siding is cracked, replace the damaged pieces. If your house has a wood finish, protect it with fresh paint or stain regularly. The exterior finish of your home can only do its job when it's properly maintained.
This last one probably goes without saying, but we're going to say it anyway. A fresh coat of parging not only looks great, it helps protect the foundation of your house. Taking care of the parging literally helps hold your house up!
Doors and Windows
Something relatively simple like a new front door can make a huge difference to the appearance of your house. New windows are a big investment, but they can help pull their own weight in the form of lower energy costs. The age and quality of the existing windows is something you can be sure any prospective new owner will want to know about when it comes time to sell your house.
Keep Looking Up
The poor, lonely roof is often forgotten about until it springs a leak. Replace any loose or damaged shingles right away, and help keep things inside dry by regularly cleaning out the gutters. If you'd rather not shimmy up a ladder to do it yourself, eaves trough cleaning is something that's pretty inexpensive to have someone come do for you.
We know exterior finishes! J and J Coatings has been offering expert parging and stucco services in Edmonton, Alberta for nearly a decade. Call us for a consult any time to help choose the right exterior finish for your house. For general maintenance tips and our latest news, follow us on Twitter and like us on Facebook.
Image courtesy of sattva at FreeDigitalPhotos.net