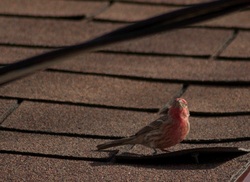 When it comes to the roof over your head, a lot of us think out of sight, out of mind. Because you can't really see the roof from the ground we forget all about it until there's a big storm and it starts raining inside! Though we specialize in parging and stucco, we firmly believe that you should think of your home's exterior as one big, protective unit. Exterior finishes and systems need to work together to shield your home from the harsh elements outside – especially in a place like Edmonton!
Repair or Replace?
In a lot of cases, unless it was due to a catastrophic event like a downed tree limb, if there is a problem with your roof it applies to the whole thing. It's likely that to really fix a problem like a serious leak in your house you're going to have to consider replacing the roof. However, roofs aren't cheap. If you need a little time to make room for a new roof in the budget, as what your options are for temporary roof repairs. Just remember that the key word here is "temporary", and if you leave it too long you could have a serious problem on your hands. A roof left unchecked can leave you handling the expense of repairing and replacing fixtures inside your house too!
Ask for Pictures
You might not have access to your roof or the necessary equipment to inspect it safely. When a roofing contractor is explaining what is wrong with your roof, it's OK to ask for pictures while they're up there to show you exactly what the problem areas are. After all, you need all of the facts to make an informed decision about how to proceed.
Looks are (a little) Important
Of course, when it comes to the roof over your head looks aren't everything, but they're not nothing either! The colour of your roof should at least coordinate with the rest of the exterior finishes on your house. However, if one colour option for shingles is way less expensive than another, go stand at street level and ask yourself how much of your roof is really visible.
What to Ask a Roofing Contractor
Typical questions to ask a roofing contractor, beyond "When can you start?" and "How much will it cost?" include questions about your particular roofing system and the contractor's warranty for materials and labour. It's also important to make sure they carry enough insurance coverage and follow the appropriate safety guidelines for your province. Actually, all of the questions in our series on the questions you should ask any contractor (Part One, Part Two) apply here.
Though nobody likes to spend money when it doesn't seem like they have to, checking out your roof for signs of wear like missing or damaged shingles can save you a lot of trouble. After all, the middle of a huge rain storm is a really bad time to find out the roof is shot!