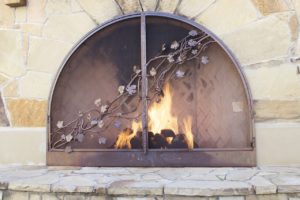 When you are on your way home after a long day, what do you most look forward to seeing as you walk in the door? The first space that comes to mind when you think of home should be peaceful and beautiful. If you want that space to last forever, consider adding a stone veneer finish.
There is more than just appearances to think about when planning upgrades to the interior finishes in your home. For example, you can boost your home's value with stone veneer accents.
Stone Veneer Fireplaces
The hearth has long been considered the gathering place in the home. Granted, historically that was because it was the warmest place in the house and huddling around it was at least partially rooted in survival. However, the warmth of fireplace has been etched in our collective minds, and it is associated with feelings of home.
Somewhere along the way, probably with the advent of central heating, the hearth lost its place of prominence in the home. Well, we're bringing it back! Stone veneer is the perfect way to bring a focal point to the gathering area in a home. You can enjoy endless hours in front of a beautiful fireplace while resting assured that it will still look great to prospective buyers when the time comes to sell your home.
J and J Coatings now offers interior stone veneer applications in Edmonton. Appointments slots are filling up quickly contact us to book now to avoid disappointment!
Stone Veneer Feature Walls
Not every house has a fireplace these days, but that doesn't mean you can't incorporate the beauty of stone veneer in your home décor. A stone veneer feature wall in the bedroom or the family room can add an elegant, cozy touch that's hard to replicate with other finishes.
Contrary to what one might think, though it's made of stone and mortar, stone veneer is surprisingly light – especially if you choose from new manufactured stone options. Interior stone veneer applications do not require additional structural supports. But don't let the lightweight nature of stone veneer finishes fool you! This material is also durable enough to be used outside, though we recommend parging for your exterior finishes.
No matter how you choose to incorporate stone veneer into your home decorating plan, rest assured that this attractive, durable finish is sure to pay itself off in the long run.
Never miss an update! Follow along with us on Twitter, Google+ and Facebook for special offers and home improvement tips you can use at any time of year.