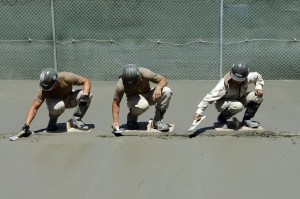 They say you can't judge a book by its cover, but your neighbours are definitely judging your home by what it looks like from the outside. What does your house say about you, and the care and attention you put into managing your home?
If your home exterior doesn't paint an accurate picture, it's time to consider adding some appropriate, functional, decorative touches. Hey, when was the last time you gave the decorative properties of masonry the consideration it deserves?
Form and Function at the Same Time
You don't have to choose between something that looks good and works well when it comes to home improvement projects.
Look at what this DIYer was able to do with concrete and an old towel. As you can see, it's possible to choose a versatile, functional substance that adds a decorative touch. When you can incorporate the functionality of a material that has been used through the ages into something that also provides an attractive finish to you home, you have a winning combination. You have also just accurately described parging!
Parging adds Good Looks and Great Protection
Take parging, for example. It's an exterior finishing process using a masonry-based material that protects your foundation from the damaging effects of outdoor elements like water, ice and snow. In other words, it's the first layer of defence against Edmonton's harsh winter climate.
Obviously, it's easy to see why parging is an important addition to help protect your home's foundation. However, did you know that a simple, relatively inexpensive application of a fresh coat of parging can also help increase the value of your home?
It's true! When people look at your house from the outside, they're looking for signs of significant trouble with the exterior systems of your home like the roof and the foundation. Paint is cheap, foundation repairs are expensive! To the untrained eye, chipped, cracked or flaked parging can look like a foundation problem. The thing is, to your average home shopper, you might never get a chance to explain that it's just the parge coat.
The first glance may be the only glance some people get at your house. Make sure it says positive things about the work you do every day to make your house a home.
Adding the attractive, functional finish of a fresh coat of parging to your Edmonton home is only a click away! We're scheduling appointments for free, no obligation consultations for the upcoming season. Our calendar fills up every year, so don't miss your chance. Contact us today!
Want home improvement news you can use all year long? Be sure to join our thriving online communities on Twitter, Google+ and Facebook. See you there!