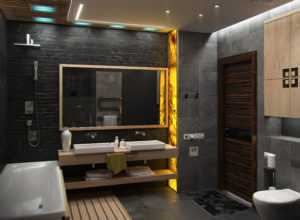 Personalizing your space is the last step on the long road to owning a home you love. By sticking to durable, beautiful materials, you can make sure that the interior finishes you choose will last for as long as you own your home. You're also sure to delight the next owner, so long as you choose wisely.
When it comes to interior stone finishes, you have a few options to choose from for your Edmonton home.
Slate Stone Finish
Slate finishes have a slightly uneven surface that makes each piece unique. Slate is commonly used in flooring, especially in the kitchen because it is believed to be among the most durable flooring finishes.
This is not your typical tile! Cutting slate requires specialized knowledge because these tiles can be more brittle than other materials. Slate tiles are also and more expensive than regular flooring materials, so you want to make sure you work with someone who is familiar with cutting the material to reduce waste. Ask to see pictures of past projects and be sure to check references from past clients.
Interior Stucco and Parging Finish
Stucco is a roughly textured plaster. Though it's often found on exterior walls, the coarseness of this finish makes it a great choice to smooth the look of uneven walls inside too. The result is a one of a kind creation that has been beautifying indoor finishes since the Roman times.
Stucco and parging can provide a historical look to the interior of your home, and many of the concerns that apply to exterior stucco applications (cracking, water damage, etc.) are not a concern when this plaster finish is used inside. Parging basement walls is a particularly nice addition to the home, and it has the benefit of providing an additional layer of insulation.
Stone Veneer Applications
Stone veneer is a versatile finish that can be used just about anywhere in the home. Because of the fireproof nature of stone, you can find many installations of stone veneer around fireplaces, from accents in the bedroom to a making an entryway grand, your imagination is the only limit. A stone veneer feature can make a beautiful addition to any home.
Did you know that in addition to providing expert parging services in Edmonton and the surrounding area? We bring all of our masonry expertise inside to help you get more out of your home.
Contact us for a no-obligation consultation for our expert parging services. While you're at it, join us online on Facebook and Twitter to make sure you never miss an update! We share home improvement news you can use, and local tips and tricks help you maintain your home in Edmonton.